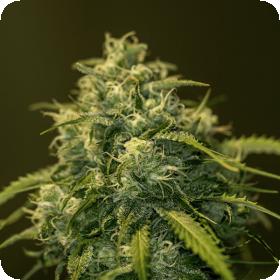 Jack Diesel CBD Feminised Seeds
Jack Diesel CBD is a potent strain that is perfect for medicinal users. It has low psycho-activity but is extremely relaxing, ideal for those who are suffering from any sort of stress related issues.
This strain is a cross between Jack Diesel and a high CBD strain, it is sativa dominant and can grow to a pretty impressive size. This strain produces a large yield of dense buds covered in resin. It has a sweet and flowery scent with a hint of fruit and wood. This is definitely a strain that is ideal for those who enjoy a truly delicious smoke.
This strain is feminised, which means that it will only grow into female plants. Feminised seeds are ideal for those who don't plant on breeding, and so have no need for the male plants. The males take up a bunch of space, time and money that would be much better used on the female plants.
Feminised crops are also often higher in quality and uniformity than regular seeds. Some breeders even use feminised seeds, despite the increased difficulty in breeding.
This strain can be grown indoors or outdoors and has a flowering time of just 65 - 70 days.
Remember that the cultivation of cannabis seeds is illegal in some countries, please check the laws of your country before attempting to cultivate cannabis seeds.