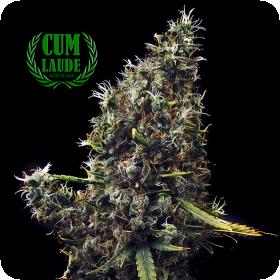 Cum Laude Feminised Seeds
Cum Laude isn't just a one-two punch of a sativa, it's a one-two punch with a kick! The one-two punch comes from another great Sativa hybrid: Queen Mother x Tijuana. The kick comes from the incomparable original Haze.
The resulting strain is super-stable and represents a hybrid that is genetically superior owing to the careful selection of parent plants.
The strong structure of these plants helps them to support the bounty of big buds it produces. Those buds are dense and have a look that is reminiscent of wheat stalks. As they mature, they get a slick cover of trichomes that are delicious-looking and resinous.
The plants give off a tantalising aroma of star anise and lavender, creating a complex and inviting bouquet. Notes of coffee and spice emerge when lit.
The effect is pleasant and long-lasting. It is very sativa but very mellow when one considers the very high THC content. It also lends the user a burst of creative thoughts and really opens up the senses.
Plant height is classified as medium for Cum Laude, and they respond well to a variety of growing methods.
They work well in soil or hydro and grow well indoors or out. Indoor plants are generally smaller even without pruning, but still produce in impressive amounts for a feminised strain.
Average flower time is 75-80 days. Outdoor plants may take a bit longer. These plants flower late so outdoor harvest will be close to the end of October, sometimes early November in areas that are more temperate.
Cum Laude represents the best of what a sativa is without being overpowering. It also makes a great choice for those new to cultivating cannabis as it is a feminised variety and subsequently easier to cultivate than its "regular" counterparts.
Genetics:
(Queen mother x Tijuana) x original Haze