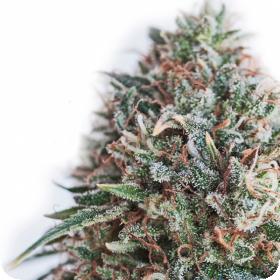 Critical 47 CBD Feminised Seeds
Critical 47 CBD is another great strain from Positronic with an extremely impressive yield. This strain is a combination of Critical 47 Quimiotipio CBD. The result is a plant with all the best aspects of indica and sativa as well as large, juicy buds.
This strain will need a touch of pruning later on as well as a little bit of staking for support, but otherwise is extremely easy to look after. The effect is ideal for a number of issues due to its positive psychological effects. Its scent is classic Skunk with a hint of citrus and a delicious caramel flavour.
This strain is feminised and will only grow into female plants. Most growers prefer to use these seeds because they are easy to grow and mean no pesky male plants. They also tend to be higher in quality and uniformity than regular seeds.
Male plants can hurt the female plants during the flowering process and have to be separated. If the grower doesn't need the male pollen for breeding the males are useless and just have to be chucked away. Feminised seeds can save a huge amount of time, money and energy that would otherwise be wasted on the male plants.
This strain has a flowering time of just 50 - 55 days and can be grown indoors or outdoors.
Remember that the cultivation of cannabis seeds is illegal in some countries, please check the laws of your country before attempting to cultivate cannabis seeds.