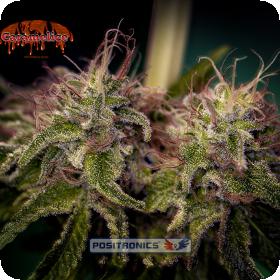 Caramel Ice Feminised Seeds
Positronic Seeds Caramel Ice takes all the best flavour and aroma traits from its parent strains and concentrates them into a super-concentrated Skunk-dominated treat for the senses.
This indica/sativa hybrid is a cross between Caramela and Super Skunk so the Skunk traits are already amplified going in.
The mingling of these genetics makes the plants super-resistant to mould and fungi, which is great news for outdoor growers, particularly those who live in more humid climates.
From the fifth week of flowering, one notices the signature shocking orange colour emerge and the calyxes become covered with large numbers of trichomes that resemble towers of shimmering gems (which really isn't that far off).
Loaded with citrus flavours (predominantly orange, lemon and lime), this particular cannabis variety presents the user with a flavour and aroma profiles that give it loads of bag appeal and mask the smell of Skunk to a reasonable degree in the grow room.
That said, it's still skunk so good air filters and vents will be necessary.
Caramel Ice delivers a balanced euphoric effect, that is typical to Skunk varieties. It is trippy and psychoactive and delivers a great full-body effect without paranoia or hangover.
Do expect, however, sudden cravings and a "need to feed." This strain is known for bringing on the munchies. THC content is moderate to high and CBD is very low.
The average plant delivers about 300-400 g of quality product per. Flowering time is about 70 days, following a minimum of 4 weeks vegetation. They grow well indoors and are partial to soil setups. Outdoor plants grow larger and require less maintenance.
They are, however, noticeable and need to be planted discreetly in areas where that is a consideration. Outdoor harvest can begin around 1st October.