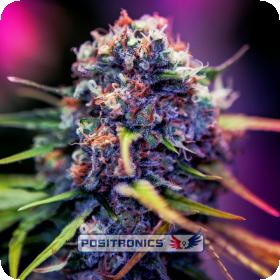 Caramel Ice CBD Feminised Seeds
Caramel Ice by Positronic Seeds is a combination of Caramela and Super Skunk. This strain is definitely one for those who love flavour and aroma to be a big part of their smoking experience. This strain is also pretty easy to cultivate and is extremely mould resistant.
The flavour is largely citric with a combination of orange, lemon and lime that shifts and changes constantly, perfect for those who love variety. The effect is extremely uplifting, even euphoric, and is pretty psycho-active without being over the top.
This makes it an excellent relaxation strain that is also good for those who are struggling with a lack of appetite.
This strain is feminised and will only grow into female plants. Feminised seeds are ideal for growers who don't plan on breeding. For these growers regular seeds can be a huge waste of time, money and effort.
The male plants have to be removed before the flowering process of they could potentially harm the female plants.
Feminised plants also tend to be higher in quality and uniformity than regular plants. For this reason some breeders also prefer to use them, despite the vastly increased difficulty of feminised breeding.
This strain needs 70 days to flower and can be grown indoors or outdoors.
Remember that the cultivation of cannabis seeds is illegal in some countries, please check the laws of your country before attempting to cultivate cannabis seeds.