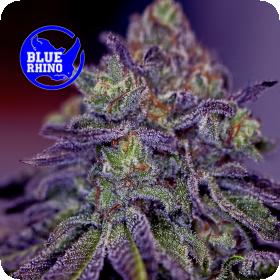 Blue Rhino Feminised Seeds
Blue Rhino by Positronic Seeds is an indica/sativa hybrid that is the result of an inscrutable selection of parent plants, chosen with the purpose of producing one of the best and most powerful hybrids that the breeders have ever produced.
The look of Blue Rhino is impressive and speaks well of the quality of the buds. The plants develop huge central colas with a limited number of large, bright green leaves. This strain captures showcases the qualities of Blueberry in the aroma and flavour while letting the beloved White genetics their fair say.
The merging of the parent strains' genetics results in an aroma that is an eclectic mingling of pure Indica aromas with those of a landrace sativa including a number of delicious fruits from blueberries to black currants. The flavour is equally unique, mirroring the smell with added notes of wood and rich spice.
The CBD content of Blue Rhino is high, making it a favourite within the medical marijuana community. It serves as an effective treatment for all ailments and symptoms to which marijuana is typically applied including nausea, migraine, muscle and joint pain.
When growing indoors, the plants will grow to a medium height but can be a little bushy, necessitating ample floor space in the grow room. These seeds will work well with any preferred grow method and the plants respond well to standard nutrients and light cycles.
The breeder does, however, recommend growing Blue Rhino outdoors as the plants tend to respond better to natural sunlight than to artificial grow room lights. They grow larger outdoors and many growers agree that growing outside makes a big difference in quality. Outdoor harvest can begin around 1st October and each plant has the potential to produce up to 500 g of great-quality product.