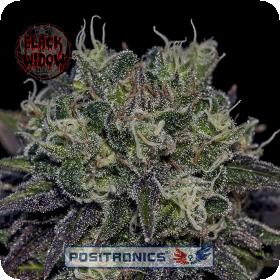 Black Widow Feminised Seeds
Black Widow has been garnering critical acclaim since back in the mid 1990s. It placed in the 1995 High Times Cannabis Cup and is recognised worldwide for its quality. It deserves every last word of praise it receives and then some.
A cross between a Brazilian Sativa and a South Indian, this strain has an impressive parentage that showcases the best qualities of both parents well.
Indoor growers should be prepared to wait about 10 weeks from seed for best quality - at least 3 weeks of vegetation before dropping the light cycle to stimulate flowering.
Giving it a bit more time on both ends will produce better buds, so exercise a little patience, and they will grow dense, sticky, and delicious.
The plants grow to a medium height, so they work well in a variety of grow setups. They can get a little branchy, so be sure to reserve enough floor space to circulate enough light.
Outdoor growers will also find that these seeds grow well in a number of varied climates. They stand up to cooler nighttime temperatures and appreciate the warmer daytime temperatures of summer during vegetation.
They are not terribly bothered by humid conditions either. The plants can be harvested beginning around 1st October and should be completed by first frost.
Each pack contains enough seeds to start a sizeable garden, and they are very reliable. You can reasonably expect a greater than 90% rate of germination and resulting plants that are healthy and strong.
Provide the proper balance of nutrients and light and watch the magic happen. Indoor plants will need an 18/6 light cycle to vegetate and a 12/12 cycle to flower. Adhering to these parameters will yield growers a great harvest of high quality buds.