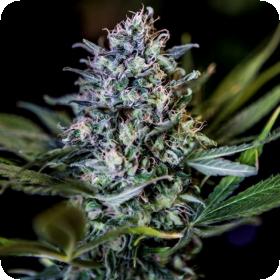 Black Widow CBD Feminised Seeds
Positronic Seeds have created Black Widow CBD from two extremely popular strains, White Widow and Misty. The strain is Indica dominant and extremely high in CBD.
This makes it a wonderful medicinal strain and is ideal for those looking for a sedative, a painkiller or a relaxant which can help fight the symptoms of anxiety, depression and stress. It has a large amount of sprouts as well as being very hardy which is ideal for commercial growing.
It does not do well in high humidity towards the end of the flowering process. It has a delightfully floral aroma as well as an after taste of methanol.
Black Widow CBD is a feminised strain which means it will only grow into female plants. In a regular crop around half of the crop would be comprised of male plants.
For those who do not plan on breeding their own crops these male plants are not only useless but are a complete waste of time, money and effort. The males would usually have to be removed at the start of the flowering process to ensure that they do not damage the female plants.
This means that around half of the seeds are being wasted, and so is half of the money spent on them. Feminised seeds ensure a fuller crop for less money.
Feminised seeds are also of a higher quality and uniformity than regular seeds. In fact 80% of strains which have been feminised have shown improvement in both areas.
Feminised seeds can also be used by experienced breeders, although the process used for feminised breeding is much more complex. The female plant has to be convinced into producing a feminised pollen which is similar to the male pollen.
This pollen is then used to fertilise another female. Since the seeds will only contain female genetic material they will grow into female plants.
This strain can be grown indoors or outdoors, depending on the desired height of the plant. The THC content of the strain is very high and the CBD is at 0.3%. It flowers in 55 - 65 days, or outdoors should be harvested in early October.
It has a yield of 300 g/plant and can grow to 1 meter indoors and 2 meters outdoors.
Genetics:
Black Widow x High CBD Plant