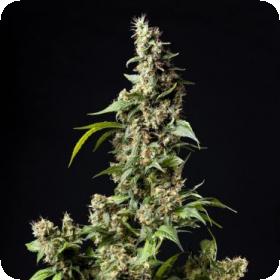 Orange Candy Feminised Seeds
The Golo-Line breeding team used Naran J, an old hybrid from the Reggae Seeds genepool originating from a cross between New York City Diesel and Morning Glory, to create Orange Candy (previously known as Naranchup). 
Naran J was then crossed with a reversed Tropimango female from Philosopher Seeds to unite and stabilise Naran J's outstanding orange flavour with Tropimango's vigour and productivity. 
Finally, this work yielded fantastic results for Philosopher Seeds... Orange Candy is a bushy plant with a solid structure, a short height, and a short internodal distance. 
It is ideal for Sea of Green due to the major centre bud that it grows. 
This strain is exceptionally stable in appearance, fragrance, flavour, and yield. 
Orange Candy is an excellent choice for any gardener. 
It is resistant to pests and illnesses and tolerates both high and low temperatures well. 
The flavour and aroma are orange, with hints of grapefruit and diesel. The effect is quick and trippy.