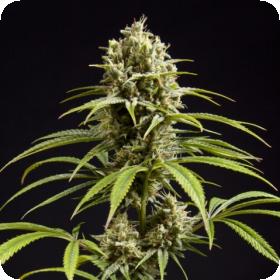 Jack El Frutero Feminised Seeds
Jack El Frutero is a wonderful strain which comes, originally, from the gene pool of friends of Philosopher Seeds, Reggae Seeds. The strains used to create this awesome strain were Respect #13, 2012 Spannabis winner, and a cross of Juanita Lagrimosa and Cannalope Haze. This strain comes from the Golo breeding line and a reversed Jack The Ripper strain as the male parent of Jack El Frutero.
Jack The Ripper has a short flowering time and ads a distinctive Haze flavour and effect to the strain as well as stability. Jack El Frutero has a stable structure and is Sativa dominant. The strain is also extremely resinous and gives an impressive yield. Jack El Frutero has a very psychoactive effect and is recommended for disconnected activities such as listening to music or just relaxing in the great outdoors. It is also perfect for those suffering from anxiety, stress, depression and pain. The flavours of the strain are distinctly fruity, especially when vaporised, and has a lasting after taste.
Jack El Frutero is a feminised strain which means it will only grow into female plants. This method of breeding has been popular for some time now as it not only makes the growing process easier, but it raises the quality and uniformity of the seeds. 80% of strains which have been subjected to this breeding method have shown improvement in both aspects. Feminised seeds are primarily used by growers who have no need for the male plants.
These growers would usually remove the male plants at the start of the flowering process, this is to ensure that they do not harm the females. Since regular seeds grow into a roughly even split of male and female plants around half of the plants in a regular crop are wasted, and so is around half of the money spent on the seeds. However these seeds are not just for growers, they can also be used by experienced breeders. It is possible, although difficult, to extract a feminised pollen from female plants. This pollen is used just like the male pollen, to fertilise another female. The resulting seeds will also be feminised.
This strain can be grown indoors or outdoors. Indoors it has a flowering period of 60 - 70 days and a yield of 400 - 550 g/m2. Outdoors it should be harvested in early - mid October and has a yield of 400 - 600 g/plant.