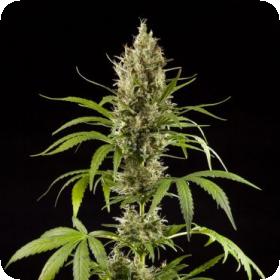 Easy Haze Feminised Seeds
Easy Haze (previously K-13 Haze) inherits the greatest traits from both of its parents: Yumbolt parent line vigour, thick and compact structure, and Kali Mist parent line thin leafs, incensed aroma, and clear sativa effect (Western Winds). 
This is a simple plant to grow. The flowering phase lasts 55-65 days and yields a large yield. 
Because of its dense and high branching, it is not advised for SOG cultivation, but it is good for SCROG. 
Outdoors, it adapts well to being planted in pots or in the ground. 
The fundamental characteristic of this marijuana strain is that its branches become totally covered in buds, resulting in the formation of formidable colas covered in resin. 
When the plant is green, the flavour and scent of this Haze type give citrus tones with tropical pineapple reminiscences, becoming more enraged as the drying and curing process continues. 
Its effect is plainly Haze, implying that it is unsuitable for occupations requiring focus.