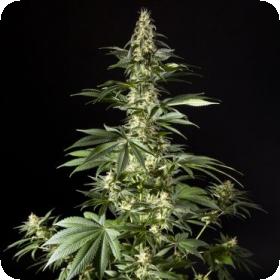 Diesel Tangie (formerly Heaven's Fruit) Feminised Seeds
Diesel Tangie, the previous Heaven's Fruit strain, was created by combining pollen from Soma's NYC Diesel with pollen from Philosopher Seeds' own Tropimango strain. 
The structure was improved while retaining the exquisite scents of the two parent strains. 
It is suited for both indoor and outdoor cultivation.
It's easy to cultivate and strong, and it grows in a columnar manner inside, where it's most suited to Sea of Green. Outside, it will mature into a traditional Christmas tree shape. 
The earliest buds may take up to 20 days to grow, but they swiftly gain density and weight. 
Below 18°C, the leaves darken and yields may be lower, although this is offset by being more potent. Plants will turn completely purple if temperatures fall below 15°C.
Indoors, flowering takes around 63 days; in northern latitudes, plants are ready in the second half of October. 
This variety has excellent pest and disease resistance, whether grown indoors or outdoors. 
Aroma and flavour are both extremely complex, with characteristics ranging from earthy to acidic. 
Diesel Tangie is 60% sativa, which is noticeable in the early high, but after a while it settles down and becomes incredibly pleasant. 
Because the majority of phenotypes produce large levels of CBD to offset the 18% THC, this strain offers medicinal benefits for medical marijuana patients.