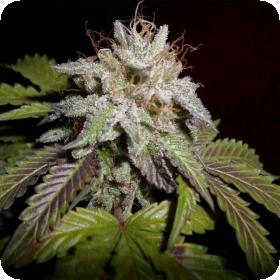 Sunset aka Sunset Sherbet Feminised Seeds
Sunset Sherbet is a combination of Girl Scout Cookies and a powerful indica known as Pink Panties. This strain is definitely indica dominant and has a powerful, lasting effect.
The stone is relaxing and bodily with a pleasant mental fluffiness. The aroma and flavour are complex and contain citrus, candy and sweet berries. This is a great strain for those with a bit of a sweet tooth.
This strain is feminised and will only grow into female plants. It will also require a light cycle in order to flower. Feminised seeds were designed to make life easier for growers, who usually don't need the male plants.
The males take up space, time and money that would be much better spent on the female plants.
Some breeders also prefer to use feminised seeds for breeding, despite the difficulty involved in breeding with just female plants. This is because the resulting plants are usually higher in quality and uniformity than those of regular seeds.
This strain takes 63 days to flower and should be grown indoors.
Genetics:
Girl Scout Cookies x Pink Panties