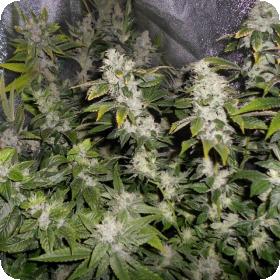 Sour Walker Feminised Seeds
Sour Walker is a combination of a specially selected Albert Walker phenotype and Sour Bubble. This strain has an amazing sweet and sour flavour with a fruity scent.
It's colas are long and dense with a heavy coating of resin. It has an average flowering time and is indica dominant. The effect is relaxing and sleepy, which is great for an evening relax after work.
This strain is feminised, which means it will only grow into female plants. It will also require a light cycle in order to flower. Feminised seeds are great for growers, who don't really have any use for the male plants.
The males take up around half of a regular crop and can damage the females later on in the growing process. As a result they have to be removed, which is a huge waste of money and time.
Some breeders also prefer to use feminised plants because of their increased quality and uniformity. However, feminised breeding is not easy and should only be attempted by experienced breeders.
This strain will need 63 – 70 days to flower and can be grown indoors or outdoors.
Genetics:
Albert Walker x Sour Bubble