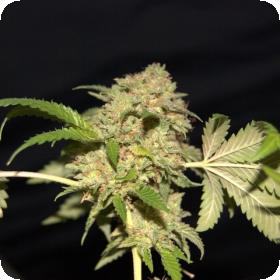 This indica dominant strain was created by combining LA Confidential and Fire OG. It has LA Confidential's classic structure and its heavy resin production.
The flavour is definitely reminiscent of the Fire parent and the effect is powerfully relaxing and is definitely for night time.
The yields are medium to high and it has an average flowering time, great for all types of grower.
LA Fire is a feminised strain, which means it will only grow into female plants. Feminised seeds are great for growers that don't use the male plants.
The males will take up around half of a crop and can damage the female seeds during the flowering period.
As a result it is usually wise to remove them before they can cause problems, this is a waste of time, money and energy that could be much better spent on the female plants.
Feminised seeds are also often higher in quality and uniformity, which is why some breeders also use them. However, feminised breeding is a very tricky process and should not be attempted by novice growers.
This strain can be grown indoors or outdoors and has a flowering time of 63 days.
Genetics:
LA Confidential x Fire OG