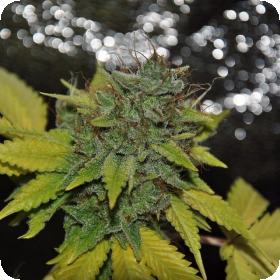 Grapefruit Diesel Feminised Seeds
Grapefruit Diesel is a cross between NYC Diesel and Grapefruit. This strain combines the dense buds and amazing flavour of NYC Diesel with the delicious fruitiness of Grapefruit.
It has an average flowering time and is ideal for all sorts of growers. This is the perfect strain for those who are fans of that classic Diesel flavour.
This strain is feminised, which means it will only grow into female plants. Feminised seeds are great for growers who have no interest in breeding.
For these growers the male plants are little more than a nuisance, and can actually harm the female plants further down the line.
This means that they have to be removed which is a waste of time, money and energy. Some breeders also prefer to use feminised seeds due to their increased quality and uniformity.
However, feminised breeding is very difficult and should not be attempted by inexperienced growers.
This strain has a flowering time of 9 weeks and can be grown indoors or outdoors.