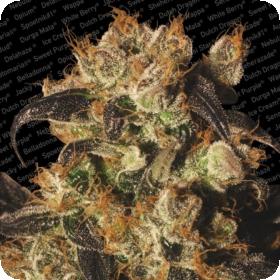 White Berry Feminised Seeds
White Berry is the sort of strain that will keep every type of grower and breeder happy.
It has a good balance of Indica and Sativa that gives it the perfect stone. Both the full body treatment and the uplifting mental rush. It is an ideal plant to have in the garden due not only to its effects but its scent, its flavour and its stature.
It has a delightful smell and taste of sweet, fresh berries. It grows thin but not massively tall and grows large bunches of small buds which are dripping in resin. Its colour is bright green and it is perfect for Sea Of Green growing and for trimming or manicuring.
It is a fast flowering plant that gives a great yield and will always really reward its grower. Unsurprisingly White Berry has won a few awards including 1st place in the Treating Yourself Medical Cannabis Cup in 2013, 1st place for Best Flavour at BioMenorCannabis in 2015 and 2nd place at BioMenorCannabis in 2015.
These seeds are feminised meaning that they will only grow into female plants. Many growers prefer these since they remove the issue of the male plants, improve the quality of the crop and have a higher chance of being completely uniform than regular seeds.
White Berry can be grown indoors or outdoors, has a flowering time of 50 days and should be harvested at the end of September. Indoors its yield is around 400 - 450 g/m2 and outdoors around 500g/plant.