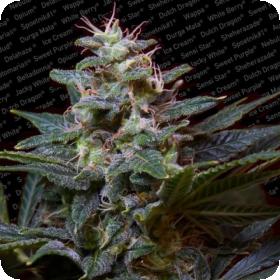 Sweet Purple Feminised Seeds
This strain is a combination of three different cannabis types. It is a mix of a purple variety, a Dutch strain that gives amazing yields, and a super potent strain. This has resulted in a strain with all the perks of a purple plant with all the delicious sweetness of the Dutch plant.
This strain is very resistant to mould and is generally extremely robust making it ideal for warmer outdoor climates. This also means that this plant can easily be grown by novice growers as well as experts. There can be a little variation in crops usually in the potency of the plants and in the colouring of the leaves. Some plants will be super purple where as others may be closer to a royal blue.
The effect of the strain is extremely body orientated whilst also giving that little burst of lucidity that can help users to concentrate of creative and practical pursuits. The scent is powerfully herbal with a minty finish with a slightly metallic taste and a hint of sweetness. Sweet Purple was the winner of the 3rd place prize in the Highlife Cannabis Cup in 2004 for Outdoor strains.
Sweet Purple is a feminised strain and so will only grow into female plants. The way that these seeds have been bred increases their uniformity and their quality whilst allowing growers with no breeding plans to work sans male plants.
This strain thrives best outdoors and has a flowering time of 9 weeks, it should be harvested in September/October.