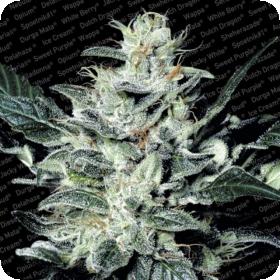 Sensi Star Feminised Seeds
Sensi Star was first released by Paradise Seeds in 1995 and in 1997 they gave it a little tune up in order to improve its growing structure.
This Indica dominant strain is ideal for indoor growing due to its vigour, its power and its resin production not to mention its extremely dense and compact buds.
Despite being a primarily Indica plant the stone is still extremely balanced and delivers a wonderful effect on the body and the mind. The general scent and taste of the strain is a refreshing citrus and the buzz is potent yet relaxing.
The type of high completely depends on the smoker, some have found it to be seriously relaxing whereas others have found it far more energetic and mental with some bodily effects.
This means that it is a good strain for creative activities, for relaxing and for a daytime painkiller. The THC levels in this strain is very high and the CBD levels are usually at about 0.9%.
Sensi Seeds has won a number of awards including 1st place in the Hydro Cup at the High Life Hemp Fair in 2010, 2nd place in the Indica Cup at the High Times Cannabis Cup in 2000 and 1st place in the Indica Cup at the High Times Cannabis Cup in 1999.
Sensi Star is a feminised strain and so it will grow into an entirely female crop. These seeds are very popular due to their enhanced quality, uniformity and ease of growth.
This strain is great for indoors or in a greenhouse, it has a flowering time of 8 - 9 weeks and should be harvested, if grown outdoors, in October.