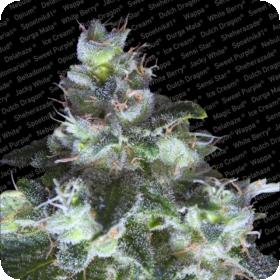 Original White Widow (IBL) Feminised Seeds
White Widow is, has and will always be one of the most popular strains in existence. Paradise Seeds decided that it would be a good idea to breed their own version of this well-loved classic, and they were absolutely right.
They in-bred it in order to create a more stable and impressive plant. The buds are large and fully covered in THC filled resin.
The THC content of this plant can reach very high levels. There is one large central cola which is completely smothered in these buds. This strain is ideal for Sea of Green Method when grown indoors.
White Widow has been the main attraction at Dutch Coffee shops since the 90s and is well known for its amazing effects. It gives a powerful sense of euphoria and energy which is perfect for those who fancy a really good stoned chat or who want to get the creative juices flowing.
Original White Widow is a feminised strain and so will require a specific light cycle to flower and the entire crop will be composed of female plants. Many growers prefer these since the male plants can present a lot of issues such as wasting valuable energy, time and money.
This strain has an indoor growing time of 60 days and can be grown outdoors in the Northern Hemisphere where it should be harvested in early October. Indoors its yields are around 500 g/m2 and outdoors around 500 g/plant.