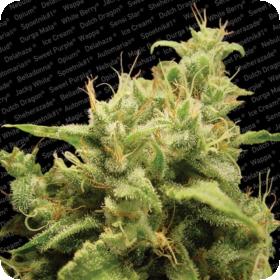 Opium by Paradise Seeds has certainly earned its name with its extremely potent effects. Opium has been known to cause visuals, intense thought processes, and severe enjoyment.
The effects are powerful but also extremely lucid making it ideal for those who still like to function while they are experiencing their plants.
The tropical fruit taste doesn't hurt either and over all this is an extremely pleasant strain. Growth wise it is a big plant with large buds and gorgeous colas. In fact this plant may have some of the largest buds around.
This combined with a short flowering time and a relatively easy to grow nature makes this strain basically perfect. Opium is even an award winner and has won 2nd place in the Biostrain Category of the Hight Times Cannabis Cup in 2006.
These seeds are feminised meaning that they will need a specific light cycle to flower and will only grow into female plants. Feminised plants are popular for their increased quality and uniformity.
Opium can be grown indoors or outdoors, it has a flowering time of 60 days and should be harvested around the end of September or start of October. Indoors it will produce yields of around 450 g/m2 and outdoors it can give anything up to and over 600 g/plant.