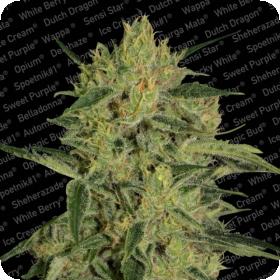 Nebula I:I CBD Feminised Seeds
For those who were in love with the award winning Nebula strain from Paradise Seeds here is the new, CBD filled version. This variety is far more medicinal than psychedelic and is perfect for those who are in desperate need of a top notch medical strain.
Nebula II CBD has a higher percentage of CBD than it does THC, which gives it a number of medicinal applications. This strain is an anti-inflammatory, anti-convulsion, anti-nausea and anti-anxiety strain which also works brilliantly well as a painkiller. The typical look of this plant is very Sativa, a lot of side branches with one primary cola and huge, heavily scented buds.
This strain is just like the original in the sense that it produces huge amounts of resin, one of the attributes that gave the strain its name. The coating of resin reminds one of a beautiful star strewn sky. The flowering period is short and the yield is high making it ideal for commercial growing. This strain is not just for medical users, it is also for anyone who wants to unwind without having their brain melted.
Nebula II CBD is a feminised strain and will only grow into female plants. Removing the male plants can save those who have no plans to breed a lot of time and money. They also tend to be higher in uniformity and in quality than regular plants.
This strain has a flowering time of 8 - 9 weeks, should be harvested in October, and can produce yields of around 450 - 550 g/m2.