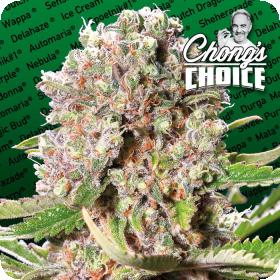 Mendocino Skunk Feminised Seeds
Mendocino Skunk is an excellent sativa indica cross with a great balance, an even better yield and it's easy to grow.
This strain was created by combining Mendocino with some of the finest Dutch Genetics available to Paradise Seeds. The result is a short and bushy plant that is easy to handle.
The flavour is fruity with an undertone of Skunk and a balanced, smooth effect. It is an uplifting strain with a positive back to it and a general sense of happiness.
For medicinal use it is recommended to those suffering from stress, pain and anxiety.
This strain is feminised, which means it will only grow into female plants. It also means that it will require a light cycle to flower. Feminised seeds are perfect for growers who are sick of male plants.
Males take up half a regular crop and are only of use to breeders. For growers they are just a nuisance as well as being a total waste of time and money.
Feminised seeds are also usually higher in quality and uniformity than regular seeds. For this reason they are sometimes used by breeders, even though feminised breeding is much more difficult.
This strain needs 49 – 56 days to flower and can be grown indoors or outdoors.