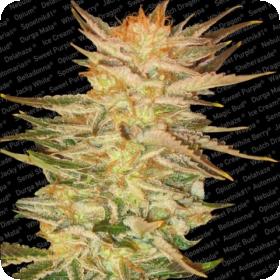 Ice Cream Feminised Seeds
Ice Cream is a tasty strain from Paradise Seeds which has won a number of awards. In 2009, it won 3rd place in the Bio Cup (High Life HF), 2nd place in the Hydro Cup (High Life HF), and 2nd place for Best Indoor Variety Bio at the Spannabis Cannabis Champions Cup.
This strain it is a vigorous grower with thick dark leaves and a high resin production. Then of course there is the origin of its name, it comes from the richly smooth and creamy taste of the strain.
This strain works well in a Sea Of Green set up or a multi-branch plant and its buds grow very tightly packed meaning that lots and lots of them can grow. These buds are completely coated in resin and will provide for an extremely enjoyable smoking experience.
Ice Cream is a feminised strain and so it will only grow into female plants. Many growers believe that using feminised seeds can save a large amount of time and money that would otherwise be spent on the useless male plants.
This strain grows the best indoors or in a greenhouse and has a flowering time of 8 - 9 weeks. If grown outdoors in a warm climate it should be harvested in October.