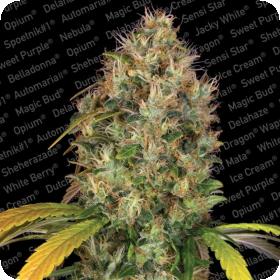 Dutch Kush Feminised Seeds
This strain by Paradise Seeds is the perfect plant for those who just want something to relax with. The tranquil, couch lock effect of this plant is second to none.
Dutch Kush is also extremely resinous and a vigorous grower, producing a nice quick harvest. The scent of the plant can be quite strong when it flowers, so it will need to be well ventilated.
Once the plant is dry the scents and flavours are of strong caramel and coffee with a hint of citrus, really delicious. This strain is ideal for those suffering from pain and insomnia.
Dutch Kush is a feminised strain and will only grow into female plants. It will also require a light cycle in order to flower.
Usually feminised seeds are preferred by growers, because they remove the issue of the male plants. Males take up space that would be better used on female plants and waste a considerable amount of time and money.
Feminised seeds are also usually higher in quality and uniformity than regular seeds. For this reason they are also sometimes used by experienced breeders, despite the difficulties that come with feminised breeding.
This strain will need 60 days to flower and can be grown indoors or outdoors.