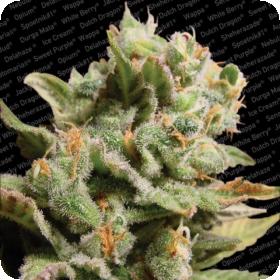 Dutch Dragon Feminised Seeds
Dutch Dragon started life in 1994 and in 2002 it was improved and the result was a massive Sativa dominant strain that produces huge yields. The effect of the strain is extremely long-lasting and bright whilst making everything significantly more enjoyable.
The scent is a refreshing burst of citrus with a sweetness behind it that is absolutely mouthwatering.
This plant will usually grow quite tall and grows well outdoors in warm climates or is perfect for Sea Of Green growing. When grown in SOG this plant's flowering cycle can be induced early due to its fast and vigorous growth.
Using this technique can cause plants to grow up to around three feet and so growers must be careful to keep an eye on their plants growth. Dutch Dragon is, unsurprisingly, an award winner and won 1st Prize at the Bio Cup (High Life HF) in 2006.
This strain is feminised meaning that it will grow into exclusively female plants and will need to flower in response to a light cycle. Feminised seeds are often higher in quality and in uniformity than regular plants and so are very popular amongst growers.
Dutch Dragon does best indoors or in a greenhouse in colder climates but can grow well outdoors in warmer places. It has an indoor flowering time of 9 - 10 weeks and should be harvested in October.