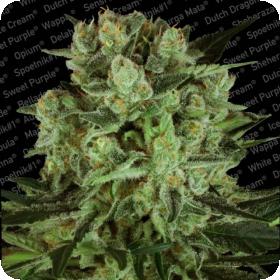 Durga Mata I:I CBD Feminised Seeds
This strain comes from the original Durga Mata, a super resinous and fast growing strain that can survive almost anything. The only possible issue for those who planned to use Durga Mata for its medicinal properties was the dominant THC level.
Now Paradise Seeds has released this CBD heavy strain which means those who use it will not experience such an intense mental effect.
The effects are far more physical and better suited to pain relief, especially during the day. Durga Mata II CBD has a CBD content of 8.5% and fairly low THC levels. This strain has been proven to help with nausea, convulsions, inflammation, and anxiety.
The plants themselves are extremely robust, uniform and reliable whilst not needing a huge amount of care in order to produce amazing results. The odour and flavour are extremely exciting with their fruity, spicy and herbal twists.
The tight, compact buds are completely coated in resin and are of immense quality.
This strain if feminised meaning that it will grow into exclusively female plants and will need a specific light cycle in order to flower. A lot of growers who don't plan on breeding feel that feminised seeds save money, time and effort whilst also giving more uniform and better quality crops.
This strain can be grown indoors and outdoors with a flowering time of just 7 - 8 weeks and it should be harvested in early October, the yield is usually around 400 - 500 g/m2.