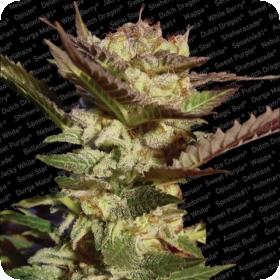 Durga Mata Feminised Seeds
This strain was specifically designed by Paradise Seeds to produce high amounts of resin whilst also being easy to grow and look after. This is one of the most uniform strains around with very little variety coming through the crop, this means that all the plants are top quality.
This also makes it perfect for SOG set up when grown indoors.
It is an extremely compact plant with tight buds and short internodal spacing. This strain is ideal for newer growers as it can take a lot of punishment before the result is affected.
It is extremely resistant to mould and to pests and doesn't need too much love and attention. It has a temptingly spicy yet herbal scent about it with an exotic fruity taste.
It has extremely long-lasting and relaxing effects which makes it ideal for those looking for a decent medicinal strain.
Durga Mata is a feminised strain and so will only grow into female plants and will need a specific light cycle in order to go through the various growing stages properly.
Feminised seeds are known for their quality and their uniformity whilst making life a lot easier for those who do not plant on breeding their own crops.
This strain is very versatile and can happily grow indoors and outdoors.