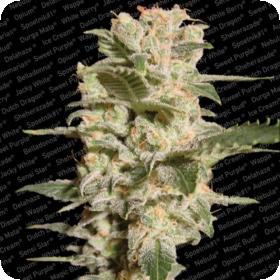 Bella Donna Feminised Seeds
This strain was introduced by Paradise Seeds in 1999 and has been a popular strain ever since. It is the perfect cross for giving huge yields with excellent quality.
It is a Sativa dominant plant with some Indica tendencies making it fast flowering with a great effect. The high of Belladonna is a delightful up and down of hallucinogenic fun.
Despite its pretty name this is one tough plant and will be able to thrive in most environments. It has been successfully grown in areas such as Spain and California but has also made wonderful progress in climates such as Holland's.
Due to this ability to grow anywhere it is also extremely resistant to mould. In part the strain gets its name from its lovely looks. It is a nice plant with not too many leaves and tight, orange tinted buds.
Due to the lack of foliage Belladonna plants can be grown closer together saving a little space.
Belladonna is a feminised strain and so it will only grow into female plants. These are often popular with growers who have no need for the male plants, it can save a lot of time and money whilst giving a fully productive crop.
Feminised seeds can also often be higher in quality and uniformity than regular seeds.
This strain has a flowering time of 9 weeks and should be harvested in October.