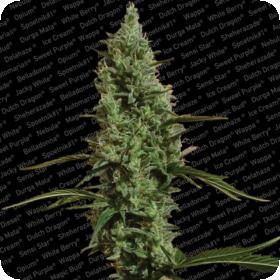 Atomical Haze Feminised Seeds
This strain is extremely famous in Amsterdam so clearly that speaks for its quality. Paradise Seeds have won a whopping 25 cannabis cups with several of their strains. Atomical Haze comes from, surprise, the Haze family.
A strain that has genetics which date back to the 70s and today they are still only gaining popularity. Since there has been a recent surge in Haze love Paradise Seeds thought it would be a good time to release this beauty.
Atomical Haze is made up of Haze, Indian classic and a tasty Afghan strain.
A genetic background that is not to be sniffed at. The resulting plant is quite large but proportioned perfectly and is excellent for trimming and pruning. Haze is definitely dominant in Atomical but all the genes together make for a seriously exciting smoking experience.
It gives a sweet yet sour flavour with a hint of kiwi and a hazy taste that lingers on the tongue. The effect is crystal clear and soaring making it an ideal daytime medication and use.
It's so uplifting that it is perfect for anyone who is feeling a bit down, stressed or just fancies a chilled day of fun.
Atomical Haze is a feminised strain, this means that it will only grow into female plants. These are very popular amongst people who don't plan on breeding their own crops as the male plants can be a bit of a waste of time and money.
This strain can be grown indoors, outdoors or in a greenhouse, indoors it has a flowering time of 9 weeks and should be harvested at the end of October.