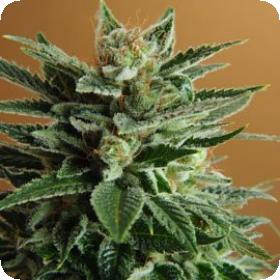 Snow White Feminised Seeds
Snow White Feminised is a high-quality hybrid that makes a great addition to your grow space or cannabis garden. As the name suggests, this is a white variety cannabis. It is 100% feminised and suitable for use as a medical marijuana strain.
This strain is one of the favourites of the breeder as well. Its White Widow genetics lend themselves to all this variety's favourable characteristics, especially its effect.
The look of the plants is unique as well and is generally determined by the growing environment. Some plants remain a lush green throughout the vegetative and flowering periods while others have leaves that take on a look that suggests they have been dipped in gold.
Snow White's indica genetics shine through in its overall structure. The plants grow tight and dense with numerous flower sites throughout. The buds are covered in dense trichomes and practically sealed with a thick, sticky layer of irresistible resin.
The end product has a moderate THC concentration and serves as an excellent source of relief from ailments ranging from migraines to arthritis to sleeplessness.
Indoors, Snow White Feminised grows well using any preferred method but responds with increased yields when methods like Sea of Green and Screen of Green are employed.
They also respond well to routine care and pruning. Keeping a consistent light schedule and a moderate temperature in its growth space will also promote superior yields.
Outdoors, it takes well to a decent range of temperatures and weather conditions but can succumb to fungus or mould in exceptionally humid climates.
Sunshine and balanced relative humidity will produce yields that meet and possibly exceed indoor results when conditions are optimal.
Flowering time for Snow White Feminised is very short - just 45-55 days on average. Normal yields fall into the category 400-500 g per square metre.
Please remember that the growing of cannabis plants and the cultivation of seeds is illegal in some countries - please check the laws of your country and don't be growing any plants if it is against your country's laws.