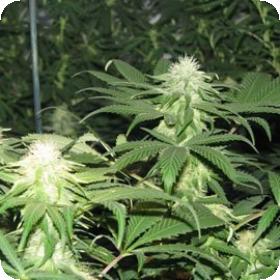 Blackberry Feminised Seeds
Blackberry is a strain that is known well for being a well-balanced hybrid that possesses all of the best of both sides of its nature. It delivers a very vibrant and invigorating sativa high but grows and produces like an indica.
This is a fairly new strain on the cannabis market, having its inception in 2009 and being one to which Nirvana seeds can lay full claim for developing and breeding. It is an expert crossing of two strains that are already exceptional in their own rights: Black Domina along with Raspberry Cough.
Flowering time for Blackberry is between 9 and 11 weeks, with the longer end resulting in more powerful, higher-quality buds. The plants have a tight leaf formation thanks to their indica genetics.
Indoor growers and those for whom discretion is a consideration do need to consider that these plants give off a pungent and unmistakably cannabis aroma that only gets stronger as the plants mature.
Good air filtration and ventilation are a must for any indoor grow room that will be cultivating Blackberry.
The smell and flavour of these plants is rather curious, but they also lend to their charm. The smell, as mentioned, is very strong and has an overwhelming diesel fuel quality to it. However, the flavour is much different.
It is sweet, tangy and overtly fruity. Some say that the mingling of smell and taste provide for one of the most unique smoking experiences one could ask for in a cannabis strain and that makes sense when it comes to Blackberry as it is quite new and quite unique.
These seeds grow well either indoors or outdoors and require little special attention in order to produce well.
Give them the right amounts of light and keep their growing environment well-balanced and nutrient rich and most growers will find the results from these seeds to be quite favourable.4%.
Please remember that the growing of cannabis plants and the cultivation of seeds is illegal in some countries - please check the laws of your country and don't be growing any plants if it is against your country's laws.