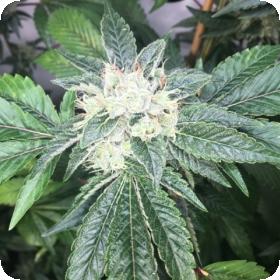 Rage OGK is a must have strain from the amazing breeders at Mosca Seeds. This little lady is a combination of the prodigal mother, Sour Kush and the infamous Legend OGK RVSD. The resulting plant is a high yielding, super potent power plant that is a must have for all gardens. This strain is guaranteed to impress even the most discerning connoisseur.
This strain is feminised, meaning that it will only grow into female plants. Feminised seeds are very popular with growers, who have no need for the male plants. The males can cause issues during the flowering period if left unattended, and so they have to be removed.
This is a huge waste of time, money and energy that would be better spent on females. Feminised seeds also tend to be higher in quality and uniformity than regular seeds. For this reason they are sometimes used in breeding, however this method should only be attempted by expert breeders.
This strain needs just 8 - 9 weeks to flower and can be grown indoors or in a greenhouse.
Remember that the cultivation of cannabis seeds is illegal in some countries, please check the laws of your country before attempting to cultivate cannabis seeds.
Genetics:
Sour Kush x CrinkleLegend