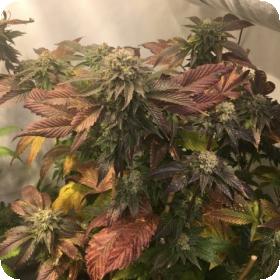 Legend OGK FEMINISED Seeds
This strain is already well known throughout the cannabis world. It is a backcross of the infamous CrinkleLegend, otherwise known as Legend OGK. This strain is recognised for its strong everything, and for being the base of most modern OG's.
It has a powerful scent and extremely impressive yields as well as a potent effect. Many wonderful strains have come from this plant, but it is well worth experiencing the legend first hand.
Legend OGK is a feminised strain, which means that it will only grow into female plants. Feminised strains are usually popular with growers, who have no need for the male plants.
By having a fully female crop they can save a signifiant amount of time, money and energy. Feminised plants are also higher in quality and uniformity than regular plants.
This is why some breeders even prefer to use them. However, feminised breeding isn't easy and should only be attempted by experienced growers.
This strain needs just 8 - 9 weeks to flower and can be grown indoors or in a greenhouse.
Remember that the cultivation of cannabis seeds is illegal in some countries, please check the laws of your country before attempting to cultivate cannabis seeds.
Genetics:
CrinkleLegend x CrinkleLegend