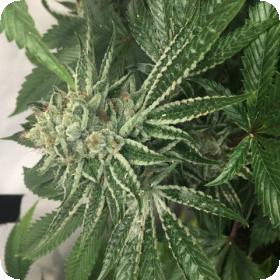 Helio OGK FEMINISED Seeds
Helio OGK by Mosca Seeds is well known for its power. In fact the name Helio comes from the idea that this strain will get you air-born. This is not a strain for the faint of heart or for beginners, but for those who need something a little more powerful.
It is a combination between two absolute powerhouses known as Kosher OG and Legend OGK RVSD, this seriously impressive strain will impress even the most seasoned smoker.
This strain is feminsied, which makes it ideal for growers. Feminised seeds will only grow into female plants and most growers have no need for the males. The male plants can actually cause some issues during the flowering process and so would have to be removed.
This wastes around half the money spent on the seeds, as well as a significant amount of time and money. Feminised seeds also tend to be higher in quality and uniformity than regular plants.
This strain will need 9 - 9.5 weeks to flower and can be grown indoors or in a greenhouse.
Remember that the cultivation of cannabis seeds is illegal in some countries, please check the laws of your country before attempting to cultivate cannabis seeds.
Genetics:
Kosher OG x CrinkleLegend