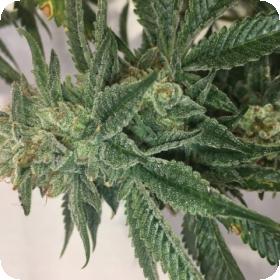 Blotto OGK FEMINISED Seeds
Mosca Seeds has crossed the extremely popular East Coast Sour Diesel with CrinkleLegend, and as one might expect the results are extremely positive. This strong smelling plant is extremely impressive and seriously potent.
The buds are compact, tight and covered in resin that gives its effect some real oomph. This will very likely soon be a favourite in most gardens.
This strain is also feminised, which means no dealing with annoying male plants. Feminised seeds grow exclusively females, which is perfect for growers. The males would usually take up a lot of time, money, space and energy that would be much better used on the female plants.
Females often tend to be higher in quality and uniformity than regular plants as well. Some breeders even go to the extra effort to breed with just female plants. However this is very difficult and not recommended for novice breeders.
Blotto OGK has a flowering time of 8 - 9 weeks and can be grown indoors or in a greenhouse.
Remember that the growing of cannabis seeds is illegal in some countries, please check the laws of your country before attempting to cultivate cannabis seeds.