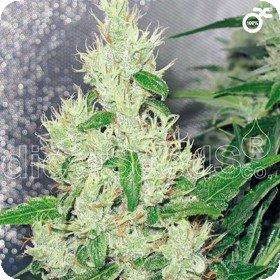 Y Griega is a robust mostly-sativa hybrid that is known for its generous production of large, extremely resinous buds. In fact, these plants produce so much resin it sometimes covers the plants down to the stems.
This plant has all the great qualities of a classic Haze strain with a few extras thrown in along the way. The parent strains of Amnesia and Kali Mist combine to create a wonderful scent that is all Haze coupled with sweet undertones.
One particularly notable aspect of this strain is its almost insane amount of THC. Not surprisingly, the effect hits so quickly it has to be experienced to be believed and there is practically no ceiling. It gives new definition to the word "high" and sweeps over the user with a fast jolt of intense energy followed quickly by a purely blissful, mellow high.
This strain is a great indoor and outdoor grower but it is very sativa in its makeup. This means that it will take its time. How much time? 80-90 days is standard and some take longer. 12 weeks is a good bet for best quality but at 500 g per square metre indoors, it is well worth the wait. It grows quite tall so be sure to grow it in a space with high ceilings. Greenhouses are overwhelmingly the best indoor environments.
The great news is that these seeds do very well outdoors and stands up to fluctuating temperatures. When growing Y Griega outside, they are good for harvest through at least early November and even later in warmer climates. Don't miss out on working with this strain. The genetics are solid, the seeds are very reliable, and the plants are very simple to grow, particularly outdoors. This is a great strain for first-time and novice growers.