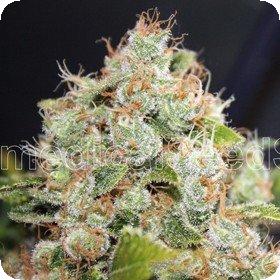 Sour Diesel Feminised Seeds
Sour Diesel has been attempted by a fair number of breeders and some do it better than others. Medical seeds falls among the ranks of breeders who get it right. Their commitment to quality shine through in this version of a global classic.
This strain is quite possibly one of the most popular on earth as well as one of the most potent. Its origins can be traced back to cannabis breeders in California and over the years it has been used in countless hybrid breeding projects.
Experience it once and it becomes obvious why. Sour Diesel is one of those strains that prefers indoor growing, but it will work outdoors under the right conditions.
As an indoor strain, it responds well to a broad range of growing methods, both soil and hydro, and the short stature of the plants only adds to its versatility. It works well in SOG and ScroG setups and is suitable for grow spaces with low ceilings.
The predominant sativa genetics make up the vast majority of the attributes of these plants. From their growth structure to their overall look, to the impressively potent effect of the finished product, the only thing that isn't sativa about this strain is the height of the plants.
That's where the indica side comes in. Anyone familiar with Diesel-based strains already knows what to expect from Sour Diesel in terms of aroma and flavour.
The oily, chemical qualities, the pungent smell and strong accompanying flavour - it's all here and it's all terrific with this version. The seeds are very dependable and predictable and the strain itself is very stable after years of refining.
Expect upwards of 500 g or better of top-notch product with Sour Diesel. A little extra pruning and care can raise that yield to as much as 600 g or better.