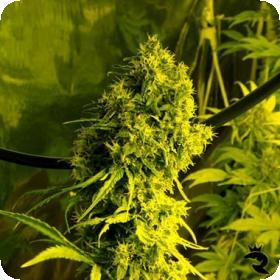 Jack La Mota Feminised Seeds
Medical Seeds Jack la Mota is a well-known strain that has made the rounds throughout the world and has been used in numerous breeding products. It is a sativa-dominant hybrid cross of three parent strains: Haze, Skunk, and Northern Lights #5.
It's name is a nod to the famous cannabis activist Jack Herer but does not include any specific genetics of the strain named after him.
Indoor growers will appreciate Jack La Mota's ability to grow well in a variety of setups. It works well in soil and pots but many growers report that SOG and ScrOG setups yield the best results overall.
The plants produce numerous compact buds and have a distinct aroma that intensifies as they mature. The smell has been compared to incense, especially when lit.
Flower time for these plants is 75-85 days. Don't rush it - the quality increases the longer it's left to grow. Indoor plants are capable of producing at least 500 g per square metre.
Those numbers increase drastically when the plants are grown outdoors and are allowed to stretch.
Outdoor plants can grow 3 metres high and produce high numbers of delicious, sticky buds. How much product can one get from an outdoor plant? How does one solid kg sound?
Outdoor growers will need to begin harvest no later than mid-October and this strain should never be exposed to freezing or frost.
Jack La Mota is an easy-to-grow strain that produces quite well with a minimal amount of maintenance. Anyone who is new to cannabis cultivation or just likes the idea of being able to sit back and "watch the grass grow" are sure to appreciate all that these seeds deliver.
They are very dependable and have a high and nearly flawless germination rate.
Genetics:
Multiple hybrid of Northern Light's 5# Haze and Skunk