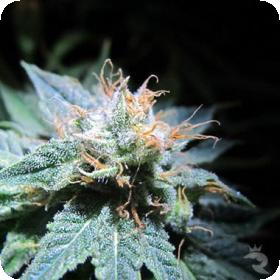 Devil Fruit Feminised Seeds
Medical Seeds Devil Fruit Feminised is an indica-dominant hybrid. Its parent strains of Shiskaberry and the iconic Great White Shark produce a plant that is 70% indica.
These plants demand long hours of light in order to grow tall. Indoors, this means a minimal light cycle of 18/6 although round-the-clock lighting works even better during the first 3-4 weeks. This is one of those rare strains that can actually grow shorter outdoors although most growers report that indoor and outdoor plants generally grow to comparable heights and produce comparable amounts of high-quality bud.
The indica side takes care of the effect of Devil Fruit. It is a little slow on the uptake but once it hits, it hits hard but is very pleasant and relaxing with few or no side effects. The flavour is just like the name implies: almost sinfully sweet. It really leaves the user wanting more. In fact, it's the flavour more than the effect that many enthusiasts cite when asked why they like this strain so much.
This is a great indoor strain owing to its size and its responsiveness to consistent lighting. The more predictable the environment, the better Devil fruit performs. That's not to say that it won't grow outdoors, only that it is easier to control indoors. When growing outdoors, it is a good idea to plant as close to summer solstice as possible to ensure the maximum number of daylight hours especially during the vegetative stage.
New and novice cannabis growers will appreciate the ease of cultivating Devil Fruit. It is one of those strains that practically grows itself with little maintenance or pruning. Experienced growers who like working with particularly no-nonsense strains will also find devil fruit to be a rewarding endeavour.
Genetics:
Shiskaberry x Great White Shark