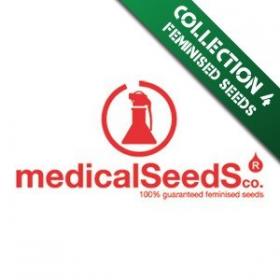 Collection 4 Feminised Seeds
This pack of six cannabis seeds offers the opportunity to experience three of Medical Seeds' best feminised strains. Each pack includes two each of the following seeds:
No Name
This is a great strain for outdoor growing. The plants reach a a medium-tall height and produce yields that can reach about 450 g per square metre. Outdoor harvest should begin in October when growing in the Northern hemisphere.
No Name's effect is nearly immediate and packs quite a wallop. It washes over the whole body and leaves the user amply relaxed and content. This strain is great for anyone who prefers cannabis with an even balance of sativa and indica. THC content of No Name is between high and very high. CBD content is high as well which makes this strain one that is useful for a number of medical applications.
Malakoff
Malakoff is an exceptional strain but it is not one for novice cannabis growers. Getting the most out of these seeds requires some skill and effort. It takes a trained eye to know when it's time to adjust the light cycle so flowering can begin. For this reason, it is also recommended that these plants be grown indoors under controlled conditions.
Malakoff delivers a very indica effect that is heavy and cerebral but is also very stimulating thanks to its sativa genetics. Its flavour is nearly beyond description. It has a classically sativa overtone mingled with hints of strawberries and cream.
Devil Fruit
Also an exceptional indoor strain, Devil Fruit produces best under controlled light cycles. The more a predictable environment provided, the better results one can expect from Devil Fruit. It will definitely grow outdoors as well, but it will be easier to cultivate and will be more predictable indoors.