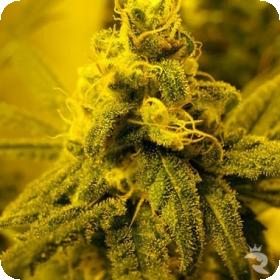 Channel + Feminised Seeds
With an indoor vegetation period of only 2-3 weeks, this fast flowering cannabis hybrid finishes in a mere 7 weeks indoors (45 - 50 days), making her perfect for the grower who prefers the perpetual garden setup, or where time or stealth is of importance.
Medical Seeds succeeded in creating this 50% sativa / 50% indica hybrid by crossing the well known and highly sought after-legendary Big Bud with the world renowned and very famous Skunk, resulting in a whopping 600 g/m²+ yield on average indoors! Indoors she can be grown in wide variety of grow setups, from soil to hydroponics!
Outdoors Channel+ is a beast of a plant that is harvested in late September and can produce as much as 1kg (2.2 lbs)! This feminised version means that the stress associated with regular seeds, where growers must wait to cull the males, is non-existent. She will produce females 99.9% of the time, which means no time or supplies are wasted growing unwanted male plants.
Growing to a staggering 3m in height outdoors, she produces a high to very THC content and is known to have a high medicinal value.
Outdoors she will benefit greatly from training or topping to keep her short and hidden from view. She grows like a sativa, which means thin with few leaves until she hits the flowering period, at which point she becomes tall and compact, keeping an indica shape, which can benefit greatly indoors from the SCROG method of training.
If Channel+ is kept as a mother plant, she produces clones that root very fast, making her a nearly perfect cloning mother. Channel+ is known to produce a cerebral mental effect that is potent and extreme, while producing a pleasant and relaxing body high, she is considered by many to be the perfect cannabis strain.
The Vault Seedbank is proud to be your seed bank of choice! Please remember that the growing of cannabis plants and the cultivation of seeds is illegal in some countries - please check the laws of your country and don't be growing any plants if it is against your country's laws.