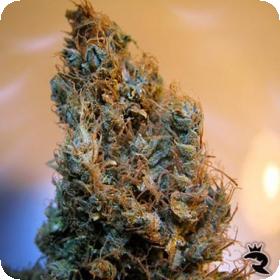 Medical Seeds 2046 is a select pure Haze cannabis. The seeds come from plants that are identical in their genetic structure and produce the finest product of any Haze variety found anywhere. Any true Haze enthusiast would have no choice but to be singularly impressed with what Medical Seeds has accomplished here.
This is not an easy strain to grow. It requires a degree of skill and patience that one does not normally experience with feminised cannabis. It is important to note all this since novice growers will likely find the results with these seeds disappointing the first time out. For those with the skill to keep up with them, indoor plants can yield as much as 500 g per square metre.
2046 will also keep the grower waiting. The flower period is a minimum of 120 days (10 weeks) and they could take longer depending on the light cycles and grow setup. Most growers agree that ScrOG is the method of choice with these plants when growing indoors.
Outdoors, they perform quite well but the flower period could be longer - as long as 14 weeks. Since the conditions vary more outdoors, it is difficult to gauge the yields for this plant. They will be lower in more Northern climates and greater in climates that are more temperate and provide a longer growing season. They are hardy enough to stand until late November but should not be subjected repeatedly to frost.
Don't miss out on the chance to work with these seeds. They grow into what is by far the best Haze cannabis that most will ever experience and the end product stores well. They are definitely temperamental but they reward tremendously for the effort put into helping them grow up big and strong.