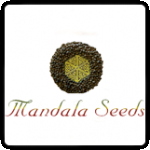 Mandala Seeds was founded in 2004 and through the breeders personal history of adventure, travel, and interest in cultivating and preserving cannabis seeds, they have pioneered several unique breeding and seed production methods.
Mandala Seeds promote greater awareness about ecological and effective cultivation methods and much thought is put into how to save costs to ensure seed prices remain customer friendly.
They believe diversity and vigour is important to preserve the overall health and resistance of plants, yet these traits have been lost in many modern strains since the 1970's due to short-sighted commercial interests.
They aim to revitalize the gene pool by introducing robust strains and varieties that contain the beneficial effects of land race genetics unique seed production method which they pioneered that focuses on quality rather than quantity. Mandala Seeds team put the fun back into growing and the Attitude Seedbank has the whole range of Mandala seeds available for sale on the website.