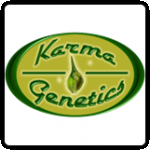 If a consumer wanted proof of the sheer quality of the products from Karma Genetics they need only look at their track record. They have one a number of awards in both the Sativa and Indica categories. In 2008 they came 3rd in the 420 ICMAG with their strain Happy Brother. In 2009 the very same strain won them 3rd place in the 420 ICMAG Breeders Cup Indica. Again at the 420 ICMAG in 2009 their Amnesia #1 won them first place in the Sativa category. In 2010 and 2011 they won 3rd twice in both the Indica and Sativa category with their Dominator and White OG strains. Any seed bank that has won this many awards must be doing something right.
\r\n
Not only is Karma Genetics an immensely high quality seed bank but they truly care about their customers. They pride themselves on remaining affordable not matter how high the quality of their product gets. They have introduced some of the finest strains currently on the market and their work with cross breeding genetics is hard to beat. They have a number of exceedingly famous strains such as White OG, Dominator, Biker Kush, Sour Jack, Funk Dwarf and the list could go on for some time. They ensure that all of these strains come in a variety of feminised, autoflowering, and regular strains. This makes 100% sure that every type of grower and breeder is catered to. No seed company that has a niche selling plan is going to go very far in the modern cannabis community. Karma Genetics understands that every customer is worth a huge amount to them be they novice or expert, grower or breeder, whether they grow for personal use or for retail purposes.
\r\n
Companies like this ensure that customers can trust them to always provide the best quality. They have, over the years, built up a loyal customer base who swear by them and their many amazing strains. They are certainly one of the most popular and most trustworthy seed companies in the business.