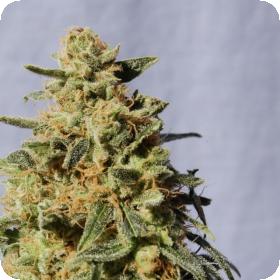 White Domina Feminised Seeds
One of the jewels in the crown, a much-improved variety with all the characteristics of the Indica plants from which it originated, Undoubtedly, by far the most Indica of all Kannabia crosses.
 A cross of Black Domino X Black Domino, a wonder of nature whose genetics have been improved generation after generation, This plant is almost 100% Indica, with a vigorous growth that is evident from the very first shoots.
A large central bud with the other "arms" up high, from which a few rock-hard buds will sprout.
Outdoors, the plant is never more than 2 m tall, and indoors, once it reaches 35-40 cm, you can move on to flowering for optimal results, The indoor flowering cycle when grown indoors is 50-55 days, while the outdoor flowering cycle will be ready for harvest by mid-September. 
Its resin production is spectacular, and the THC levels you can obtain will make you an instant fan of the variety. The smell is reminiscent of pine mixed with tangy fruit during flowering.
For optimal growth, the plant needs good feed right from the beginning of its life cycle, but especially during flowering, ensuring that buds are hardened properly and do not remain spongy.