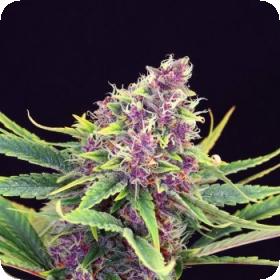 Purple Kush Feminised Seeds
This strain is a combination of Purple Kush and Black Domina, but its primarily Purple. Purple Kush is well known for its amazing colouration, bright purple buds and stunning green leaves. This strain will stand out beautifully in any garden. Its flavours are deliciously fresh and herby with just a hint of incense.
This strain is also pretty easy to grow and wont need huge amounts of care. This strain has a high level of THC and a low level of CBD with a super relaxing effect that doesn't bring on couch lock. This is a great strain for the active stoner and for those who just need a bit of a relax.
Purple Kush is a feminised strain, so it will only grow into female plants. Feminised strains are primarily popular with growers because they remove the issue of the male plants. Males are pointless if they aren't being used for breeding. They take up space, time and money that would be much better used on the female plants.
Feminised seeds also tend to show more impressive uniformity and be of higher quality than regular seeds. As a result they are even used by some more experienced breeders.
This strain needs 55 - 60 days to flower and can be grown indoors or outdoors.
Remember that the cultivation of cannabis seeds is illegal in some countries, please check the laws of your country before attempting to cultivate cannabis seeds.
Genetics:
Black Domina x Purple Kush