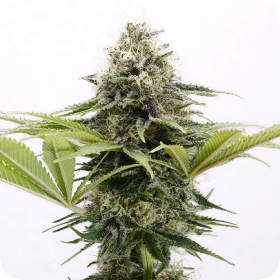 Mama Cultiva Feminised Seeds
Mama Cultiva is a Sativa-dominant strain named after the Chilean women's collective Mama Cultiva, which was founded in 2016 to advocate for the legalisation of cannabis and home-growing in order to provide medicine for their children whose illnesses would otherwise go untreated. 
Afghan, Haze, White Widow, and Black Jack are all mixed together in this cross. 
This breed is known for its strong THC levels and high yields.
This plant's output is maximised under ideal outdoor settings, where its roots can grow out and produce a plant 200 cm tall with yields of 750 grammes per plant, which is very likely from early October harvests in the northern hemisphere. 
Fruity, flowery, and spicy aromas are among the fragrances and flavours.
With up to 28% THC and only 0.5% CBD, this is a highly psychoactive strain. 
It is suggested for medicinal use, albeit no details are available at this time.
Genetics:
Afgan x Haze x White Widow x Black Jack