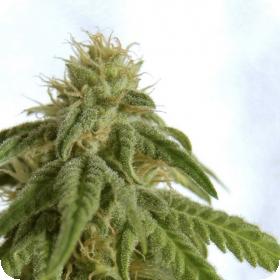 Afrodite Feminised is a mostly-sativa hybrid that is known for its particular psychoactive properties and potency. The plants are curiously small for a Sativa but they make up for their small stature with an end product that packs a considerable wallop.
Kannabia Afrodite is not a beginner's smoke. The strain is particularly intoxicating and the effect is nearly immediate with little to no ceiling. The effect is very typical of a sativa - relaxing and uplifting while leaving the user alert and productive. Use it to get the creative juices flowing or just to pass around for fun.
This is an easy, low-maintenance strain that is certain to become a favourite for both grower and user alike. The plants are short given their dominant genetics but they are also very bushy as well as branchy. They produce numerous bud sites that are loaded with thick dense buds covered in a shimmering coat of white resin.
The height of Afrodite Feminised plants makes them perfect for growing indoors in areas with low ceilings or limited space. They will, however, require a bit of floor space to get the maximum yield out of each plant. Growers are split on the effectiveness of tying them so use your own discretion. It might be better to grow a bit less and get the most out of each plant in terms of quality and quantity.
These plants are feminised so they are by nature easy to grow. They work well in SoG and ScrOG setups owing to their short height.
Flowering time for Afrodite Feminised approximately 9-10 weeks average, whether grown inside or out. When growing outdoors, growers should leave some space between plants to let them stretch and bring them in somewhere between early and mid October.
Genetics:
Black Domina x Jack Herer