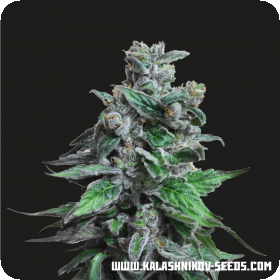 Moscow Bluberry Feminised Seeds
This strain is a combination of AK - 47 and Blueberry in a hybrid that is ideal for medicinal users. This is due to the fact that its CBD level can reach up to 5%.
This strain is also extremely hardy, having been bred in Russia, and can stand up to most climates. This strain isn't the largest but it more than makes up for that with dense and sticky buds completely coated in resin.
This strain has taken on all of the great flavour and smell of the Blueberry parent. The berry scent transforms into cherry scented smoke that leaves the mouth watering.
The THC level is around 18% which makes it a pretty powerful strain, but with a balanced and CBD rich effect.
This means that it is extremely relaxing but can also be used for depression, chronic pain, or just for those who find relaxation extremely difficult and just need a little push.
Moscow Blueberry is a feminised strain, so it will only grow into female plants and will need a light cycle to flower. Feminised seeds are usually popular with growers, who have no need for the male plants.
The males take up a load of space, time and money that would be much better spent on the productive females.
They can also harm the females if left in the crop, so the grower must waste even more time removing them from the crop. Feminised seeds are usually higher in quality and uniformity than regular seeds.
As a result some more experienced breeders also prefer to use them for feminised breeding.
This strain will need 55 - 65 days to flower and can be grown indoors or outdoors.
Remember that the cultivation of cannabis seeds is illegal in some countries, please check the laws of your country before attempting to cultivate cannabis seeds.
Genetics:
Blueberry x AK-47 x Secret Hybrid